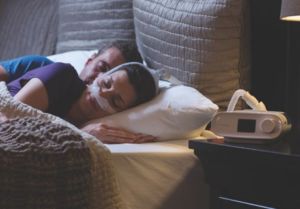 Helping you get a good night's sleep is important to Doubek Medical Supply's team. Continuous positive airway pressure therapy, commonly called CPAP, may help improve sleep quality for those with obstructive sleep apnea. There are many products on the market and finding the right one can be a challenge, but a perfect match may be what helps you stick with therapy.
Take a closer look at one product that could be the solution to your sleep problems. The Dreamstation manufactured by Philips Respironics is a positive pressure (PAP) sleep therapy device designed to be as comfortable and easy to experience as sleep is intended to be.
User-friendly features:
Small and light, easy to pack for travel
Easy to navigate menus
Front-facing display that can be used while lying down or sitting up in bed
Easy-to-clean, one-piece humidifier chamber
EZ-start tool helps patients gradually acclimate to therapy, while SmartRamp allows patients to fall asleep with lower pressures
Self-diagnostic tool reduces the time and trouble associated with device troubleshooting
Integrated Bluetooth is standard on every device and optional Wi-Fi and cellular modems provide connectivity options
DreamMapper feature provides goal-setting tools, helpful videos and ongoing personalized feedback
According to a review by The Journal for Sleep Specialists, "The Dreamstation was developed with a patient-driven design to help new and experienced patients use therapy long term."
This product is one of many that may help you get the good night's sleep you seek. If you are experiencing sleep problems, visit your physician, who can help you decide what, if any, treatment is needed and which device will be the best fit.
For more information, please call a Doubek representative at 800-368-2358.